Finance
Why HP Sold Its 51% Stake in H3C Technologies This Month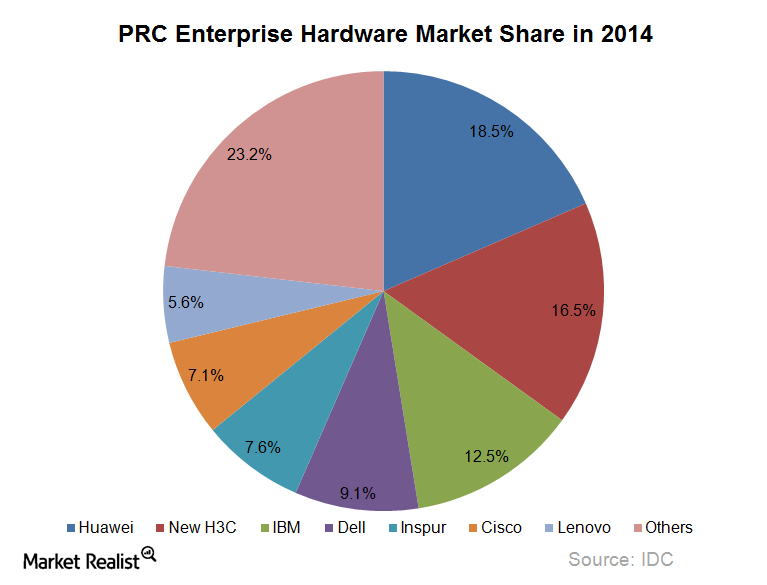 On May 21, 2015, HP (HPQ) officially announced the sale of its 51% share in H3C Technologies to China-based Tsinghua Holdings subsidiary, Unisplendour. With this acquisition, Tsinghua Holdings will now have a 51% share of H3C Technologies' networking operation along with HP's enterprise operations in China. HP's enterprise operations include server, storage, and technical services in China.
Tsinghua Holdings is the asset management division of Tsinghua University. It bought a 51% share in HP's new data networking operations business, H3C, for approximately $2.3 billion, valuing the entire H3C at $4.5 billion. The Wall Street Journal reported that HP, with a 49% share in the new H3C, would hold the right to appoint H3C's chair and chief financial officer (or CFO).
Both the companies announced that they will work together to form the "New H3C," which will be the "exclusive provider" of HP's servers, storage, and networking coupled with hardware support services in China (FXI).
Unisplendour's H3C acquisition is likely to make the company a leading vendor in China's server and storage market. As the above chart shows, Huawei leads the enterprise hardware space with a 18.5% market share. The company is followed by H3C with a 16.5% market share. IBM (IBM), Dell, Cisco (CSCO), and Lenovo are some other prominent players in this space.
In regards to Unisplendour's acquisition of the majority stake in H3C, Thomas Zhou, senior research manager of the IDC enterprise system research, said, "Once this deal goes through, the new H3C will become a state owned shareholding company. It will change the competition landscape of the China server & storage market. If the new H3C can effectively manage the transition, they will emerge as one of most competitive vendors in the enterprise business market in China."
View more information: https://marketrealist.com/2015/05/hp-sold-51-stake-h3c-technologies-month/
See more articles in category:
Finance