Finance
What's behind ETP's Strong Distributable Cash Flow Growth?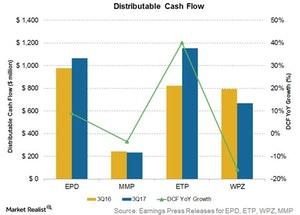 Energy Transfer Partners' DCF rose 27.5% YoY to $1,049 million in 3Q17 compared to $823 million in 3Q16. The YoY growth in ETP's 3Q17 DCF was mainly due to EBITDA (earnings before interest, tax, depreciation, and amortization) growth during the quarter. ETP's 3Q17 EBITDA growth was driven by the strong performance of its crude oil transportation and services segment.
ETP's DCF for 3Q17 and 3Q16 in the chart above reflects the pro forma impacts of the merger with Sunoco Logistics as if the merger happened on January 1, 2016. The merger was completed on April 28, 2017.
View more information: https://marketrealist.com/2017/12/analyzing-etps-strong-distributable-cash-flow-growth/
See more articles in category:
Finance