Finance
Valeant Pharmaceuticals' Ortho Dermatology Segment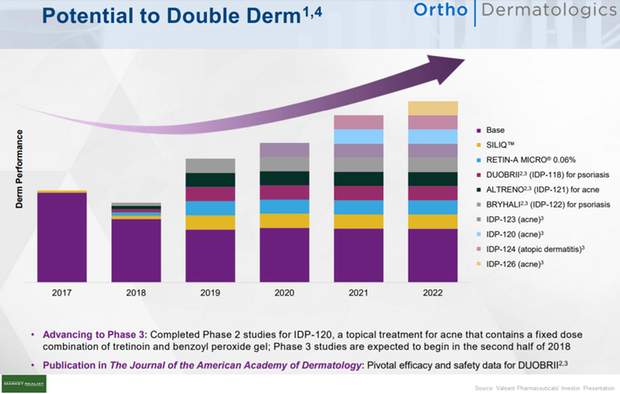 Valeant Pharmaceuticals is focused on the market expansion of Siliq. Valeant Pharmaceuticals said that physicians are impressed with the quick response and higher number of patients achieving complete clearance.
In February, Valeant Pharmaceuticals announced the results from the Phase 3 AMAGINE-1 trial. The Phase 3 AMAGINE-1 trial evaluated the safety and efficacy of Siliq in the management of mental health comorbidities related to psoriasis, such as anxiety and depression.
In the Phase 3 trial, after 12 weeks of Siliq therapy, patients with plaque psoriasis demonstrated a decrease in anxiety and depression in HADS (Hospital Anxiety and Depression Scale) while HADS scores remained unaffected for patients on placebo therapy.
In the marketplace, Siliq's peers include Eli Lilly's (LLY) Taltz, AbbVie's (ABBV) Humira, and Johnson & Johnson's (JNJ) Tremfya.
Valeant Pharmaceuticals' new chemical entities are in clinical development. Valeant Pharmaceuticals recently completed the Phase 2 trial with IDP-120, an investigational molecule for the treatment of acne. Valeant is conducting various clinical trials for bringing new products for the treatment of acne, psoriasis, and atopic dermatitis.
View more information: https://marketrealist.com/2018/05/valeant-pharmaceuticals-ortho-dermatology-segment/
See more articles in category:
Finance