Finance
The AMLP ETF versus the MLPI ETN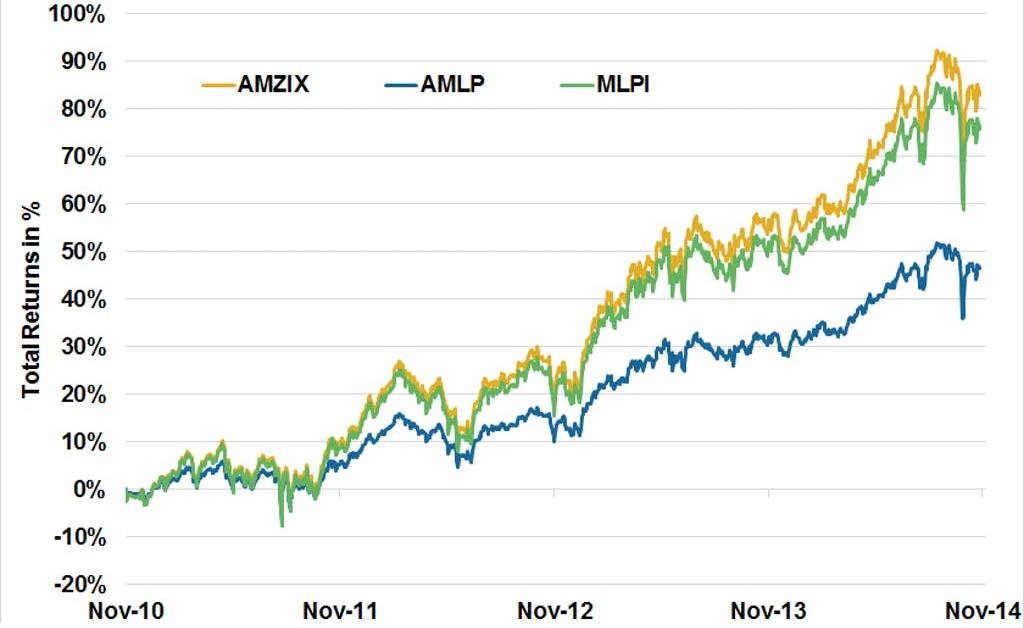 The Alerian MLP ETF and the ETRACS Alerian MLP Infrastructure Index ETN
To conclude our analysis of the better way to invest in the Alerian MLP Infrastructure Index (AMZIX), let's review the performance and the pros and cons of our two contenders here, the Alerian MLP ETF (AMLP) and the ETRACS Alerian MLP Infrastructure Index ETN (MLPI).
Four-year total returns
As the chart above shows, AMLP immediately stands out as an underperformer with barely a ~46% total return over the last four years. This is despite the fact that it actually holds high distribution paying companies like Enbridge Energy Partners (EEP) and Atlas Pipeline Partners (APL) with yields of ~7.65% and ~7.50%, respectively.
On the other hand, MLPI has kept pace with the AMZIX, with total returns of ~76%, compared to AMZIX's ~83% in the same timeframe.
The drag explained
We discussed the reason for this counterintuitive underperformance earlier, AMLP's massive gross expense ratio. In comparison, MLPI manages to get by with an annual tracking fee of just 0.85%.
AMLP's larger expense ratio is on account of its legal status. AMLP's fact sheet explains, "The Fund is taxed as a regular corporation for federal income purposes, which reduces the Net Asset Value of fund shares by the accrual of any deferred tax liabilities."
So, were the AMZIX to depreciate, AMLP would also be able to accrue tax assets, which should provide a degree of downside protection.
The MLPI ETN is a financial instrument whose gains do not get taxed at the issuer level, but its coupon payments would be taxed as ordinary income, while AMLP's distributions can get "qualified" status.
Other considerations
Both methods provide advantages related to diversification, a steady stream of cash flows, and the ability to trade small units on an exchange like stocks, but also share disadvantages related to the underlying index.
However, one key point to reiterate is that as a financial instrument, the solvency of its issuer, UBS AG (UBS), would especially matter for investors in MLPI.
Finally, while both methods involve 1099 tax reporting, and eliminate the laborious K-1 form process associated with investments directly in MLPs, nuances related to tax treatments under various circumstances can skew advantages and disadvantages in favor of either instrument.
So, the choice between the two would have to be based on a combination of your situation and your conviction regarding the energy MLP sectors' future market performance.
View more information: https://marketrealist.com/2014/11/face-amlp-etf-versus-mlpi-etn/
See more articles in category:
Finance