Finance
Teva's Key Drugs in Its Specialty Products Pipeline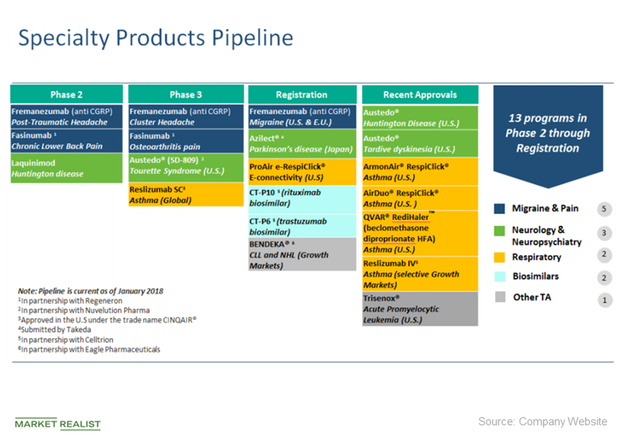 Fainumab is a key pipeline product that's under a Phase 2 trial for the treatment of chronic lower back pain and under a Phase 3 trial for the treatment of osteoarthritis pain.
Teva's Bendeka is being developed in partnership with Eagle Pharmaceuticals (EGRX) for the treatment of individuals with chronic lymphocytic leukemia and indolent B-cell non-Hodgkin lymphoma. Bendeka is under FDA review. 
Eagle Pharmaceuticals recently won a lawsuit against the FDA, which triggered a positive stock reaction for Teva stock. This development increased investor optimism for the approval of Bendeka. The event is expected to boost Teva's sales. The FDA had previously refused to grant orphan drug status to Bendeka.
Be sure to check out all the data we've added to our quote pages. Now you can get a valuation snapshot, earnings and revenue estimates, and historical data, as well as dividend information. Take a look!
View more information: https://marketrealist.com/2018/06/tevas-key-drugs-in-its-specialty-products-pipeline/
See more articles in category:
Finance