Finance
Spectra Energy reports mainly strong revenues and profits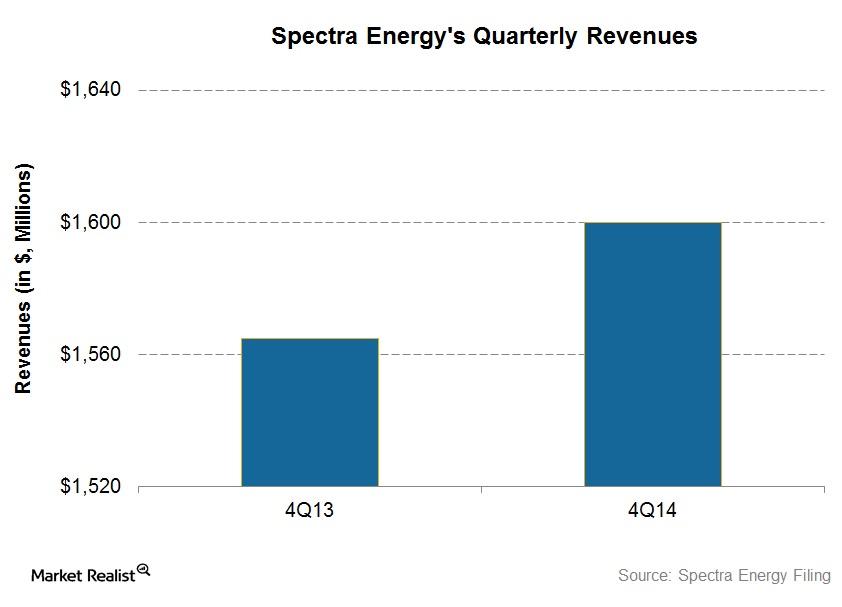 Spectra Energy (SE) released its 4Q14 financial results on February 4. In the previous section of this series, we discussed Spectra Energy's (SE) revenues and earnings relative to analyst estimates. In this article, we'll analyze how the company performed in the latest quarter by looking at its revenues and profits.
In 4Q14, Spectra Energy (SE) quarterly revenues increased 2.2% to $1.6 billion, up from $1.56 billion in 4Q13. Kinder Morgan (KMI), the largest midstream company, increased its revenues by 2% in 4Q14. AGL Resources (GAS) revenues increased by 18.6%. TransCanada Corporation (TRP), another midstream energy giant, is expected to announce its 4Q14 results soon.
Spectra Energy makes up 2% of the Energy Select Sector SPDR ETF (XLE).
Net income for 4Q14 increased 33.9% to $316 million, up from $236 million recorded in 4Q13. Net income margin—or, net income as a percentage of revenues—also rose to 19.8%, up from 15.1% in the same quarter a year ago.
Distributable cash flow was up $168 million year-over-year to $1.46 billion, 13% higher than it was in 2013.
View more information: https://marketrealist.com/2015/02/spectra-energy-reports-mainly-strong-revenues-profits/
See more articles in category:
Finance