Finance
Nuro Announces Partnership With Domino's: Is It Publicly Traded?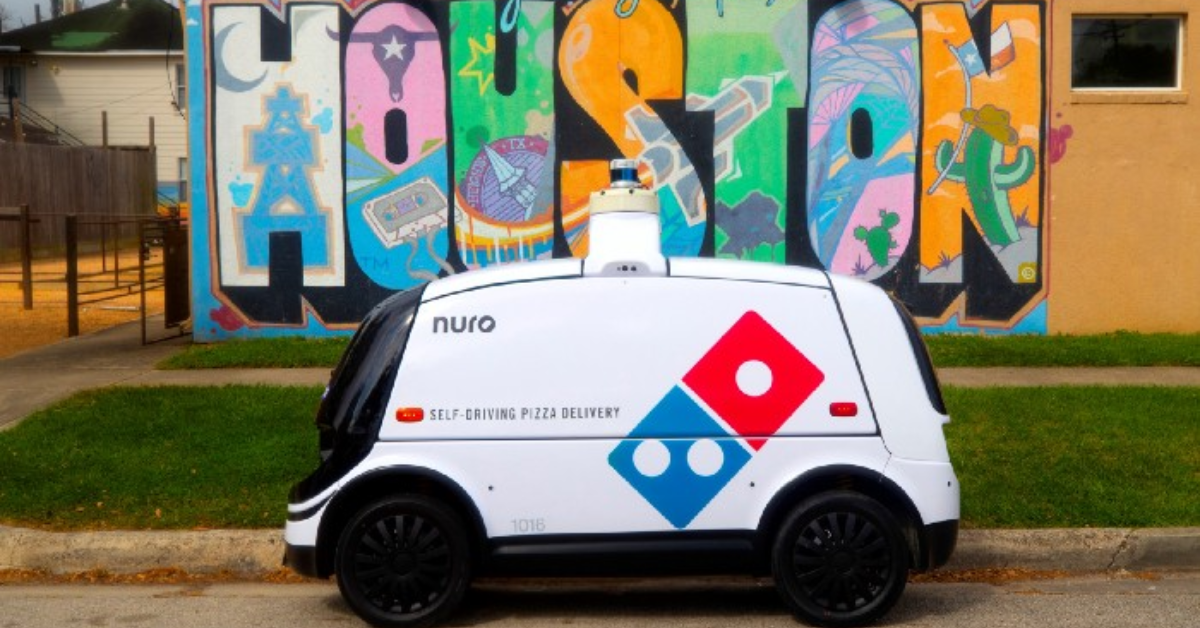 Nuro, the leading maker of self-driving delivery vehicles, announced a partnership with the world's largest pizza company. Domino's will use Nuro's R2 robot vehicles to deliver pizzas in Houston. 
There isn't any information on whether Nuro, a privately-held company, plans to become publicly traded anytime soon. Domino's trades on the NYSE under the ticker symbol "DPZ."
How the Nuro and Domino's pizza delivery robots operate
Starting this week, select customers who place a prepaid online order for Domino's in Houston's Woodland Heights neighborhood can choose to have their pizza delivered by Nuro's R2 robot.
Article continues below advertisement
Customers can receive text alert updates on R2's location and track the vehicle via GPS on their order confirmation page. After R2 arrives, customers will be prompted to enter a unique PIN on the bot's touchscreen to receive their order. 
"We're excited to continue innovating the delivery experience for Domino's customers by testing autonomous delivery with Nuro in Houston," said Dennis Maloney, Domino's senior vice president and chief innovation officer. "The growing demand for great-tasting pizza creates the need for more deliveries, and we look forward to seeing how autonomous delivery can work along with Domino's existing delivery experts to better support the customers' needs."
Article continues below advertisement
Using the R2 delivery vehicles will allow Domino's operations to better understand how customers respond to the deliveries, how they interact with the robot, and how it impacts store operations, Maloney said.
Nuro robotics got DOT approval.
Nuro's R2 is the first completely autonomous, occupant-less on-road delivery vehicle to receive regulatory approval from the Department of Transportation.
Article continues below advertisement
"We custom-designed R2 to enrich local commerce with last-mile delivery of consumer products, groceries, and hot food from local stores and restaurants," Nuro co-founder Dave Ferguson wrote February 6, 2020, on the company's Medium page. 
Article continues below advertisement
Although driver-less vehicles have been used to deliver groceries and prescriptions, this is R2's first test delivering for a restaurant. 
"We're excited to introduce our autonomous delivery bots to a select set of Domino's customers in Houston. We can't wait to see what they think," Ferguson said. 
Article continues below advertisement
Nuro's valuation and funding history
If things go as planned, Nuro could be using its vehicles for other restaurant deliveries. In March, Chipotle officials announced that the company had invested in Nuro as part of a $500 million Series C funding round. 
Currently, Nuro has 11 investors and a valuation of about $5 billion. Investors include Chipotle, T. Rowe Price, SoftBank Group, Greylock Partners, and Fidelity Management & Research. 
Article continues below advertisement
Expanding access and convenience through Chipotle's digital offers is a strategic priority, the company said in a March 25 press release. 
"Nuro could change the traditional delivery model, and we believe consumers are going to continue to seek options and additional access points for how and where they enjoy their food," said Curt Garner, Chipotle's chief technology officer.
Article continues below advertisement
Chipotle started testing the delivery robots on public roads in California in 2020. 
Article continues below advertisement
View more information: https://marketrealist.com/p/is-nuro-publicly-traded/
See more articles in category:
Finance