Finance
Low-entry barriers intensify competition in airline industry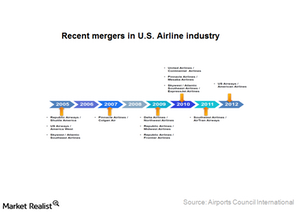 According to the ICAO (International Civil Aviation Organization), global passenger traffic increased by 5.2% year-over-year in 2013, representing the fourth consecutive positive growth for the airline industry since 2009. The trend has continued in 2014 with a 5.8% year-over-year growth in passenger traffic during the first eight months. Growth in traffic for international markets was higher than the domestic market.
In 2013, the average traffic growth of the top five US airlines, including Delta Air Lines, Inc. (DAL), United Continental Holdings Inc. (UAL), Alaska Air Group, Inc. (ALK), JetBlue Airways Corporation (JBLU), and Southwest Airlines Co. (LUV), was ~3%. Investors can invest in US airline stocks through the SPDR S&P Transportation ETF (XTN).
Even capacity has increased since 2009, but the rate of growth in capacity (4.8% in 2013) has been lower than the ten-year compounded annual growth rate of 5.1%. In 2013, Asia Pacific had the highest share in capacity of 32%, followed by 27% for Europe, 25% for North America, 9% for the Middle East, 5% for Latin American and the Caribbean, and 3% for Africa. Capacity growth rate is higher in the Middle East and emerging markets of Asia-Pacific, Latin America, and Africa.  
It's evident from the increase in load factor that airlines have successfully managed to strike a balance between the growth in demand and supply. Load factor improved to 79% in 2013, the highest level and 5.7% higher than 73.3% recorded in 2004.
View more information: https://marketrealist.com/2014/12/low-entry-barriers-intensify-competition-airline-industry/
See more articles in category:
Finance