Finance
In 2015, Technology Sector Clinches Biggest M&A Deals since 2000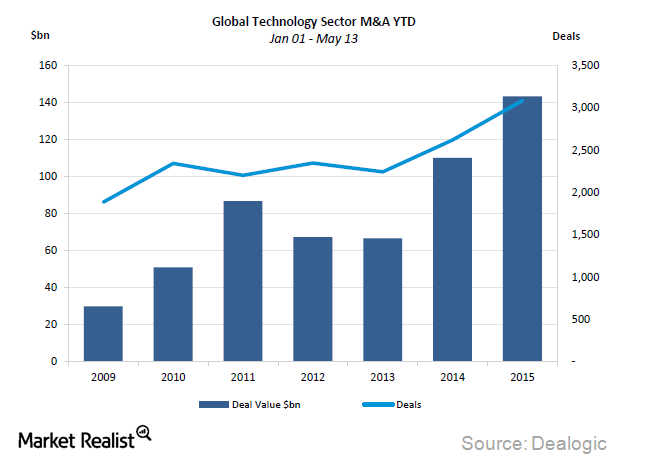 On June 1, 2015, Microsoft (MSFT) announced the purchase of 6Wunderkinder GmbH, the developer of to-do list app Wunderlist. On the same day, Intel (INTC) announced its acquisition of Altera Corporation for ~$16.7 billion in cash. On May 29, data center operator Equinix acquired Telecity Group PLC for $3.60 billion, or 2.35 billion pounds.
On May 26, enterprise cloud computing company Virtustream was acquired by EMC (EMC) for $1.2 billion in cash. Founded in 2009, Virtustream focuses on mission-critical applications such as SAP (SAP) business applications. It provides a software subscription option for SAP HANA through its xStream Cloud.
On May 28, one of the largest pure technology deals on record occurred when Avago Technologies (AVGO) acquired Broadcom for $37 billion.
On April 15, 2015, Nokia announced its intention to acquire France's Alcatel-Lucent SA in an all-stock deal for 15.6 billion euros (or $16.6 billion). Nokia made this acquisition to build scale, allowing it to compete in the high-capacity wireless and wired data networks space.
View more information: https://marketrealist.com/2015/06/2015-technology-sector-clinches-biggest-ma-deals-since-2000/
See more articles in category:
Finance