Finance
How Is Facebook's Average Revenue per User Trending?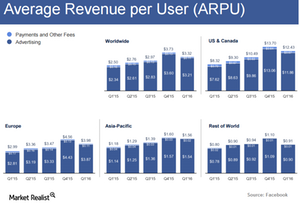 Average revenue per user (or ARPU) is a key metric for Internet companies, as it helps in analyzing how well a company can monetize its user base. According to Facebook (FB), "ARPU is calculated using the total revenue in a given geography during a given quarter, divided by the average of the number of MAUs in the geography at the beginning and end of the quarter." One thing to note here is "while ARPU includes all sources of revenue, the number of MAUs used in this calculation only includes users of Facebook and Messenger."
Facebook's ARPU rose 33% YoY to $3.32 in 1Q16 thanks to the increase in user engagement and higher ad prices. However, unfavorable foreign exchange movement played a spoilsport.
Regionally, ARPU increased the most in the US and Canada (EWC) by 49%, followed by Europe and Asia-Pacific where ARPU rose 33% and 32%, respectively. ARPU in the rest of the world saw an increase of 14% during the quarter.
Sequentially, ARPU marked a decline of 11%. However, the metric is related to seasonality. Currency movement did play a negative role, as the strengthening of the US dollar relative to other countries dragged down the ARPU growth rate.
View more information: https://marketrealist.com/2016/05/facebooks-average-revenue-per-user-trending/
See more articles in category:
Finance