Finance
Can Brocade Communications Boost Its Market Share in WLAN Segment?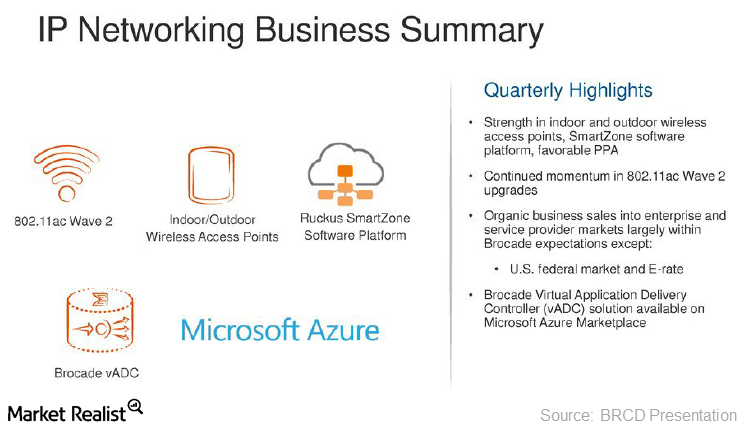 In the company's fiscal 3Q16 earnings call, the CEO of Brocade, Lloyd Carney, stated that the firm is progressing as expected with respect to its integration with Ruckus Wireless (RKUS).
Carney noted, "During the quarter, we had a number of joint vents, including success in education, communication, hospitality and consumer verticals. We are excited to bring together the full benefit of our combined portfolios or the network edge, to datacenter and service provider markets."
Brocade was named a leader in the IHS Wireless LAN scorecard. The scorecard mentioned a number of strategic benefits after the integration of Ruckus's high-performance wireless LAN with Brocade's switching portfolio. As a pure-play networking company, Brocade is well-positioned to expand its market reach, diversify revenue mix and drive incremental opportunities for growth.
IDC stated that Ruckus Wireless's revenues grew by 21% YoY, and its market share rose to 7.7% in 1Q16 from 6.7% in 4Q15 and 6.9% in 1Q15. Cisco's WLAN revenue rose by 2.7% YoY, and its market share was 45.2% compared to 45% in 4Q15 and 47.8% in 1Q15. Cisco's acquisition of Meraki is one of the company's key revenue and growth drivers.
Aruba Hewlett-Packard Enterprise is another major player in this market, with a share of 15.8% in 1Q16 compared to 15.9% in 4Q15 and 17.6% in 1Q15.
View more information: https://marketrealist.com/2016/08/can-brocade-increase-market-share-wlan-segment/
See more articles in category:
Finance