Finance
Alexion Pharmaceuticals Diversifies Its Research Pipeline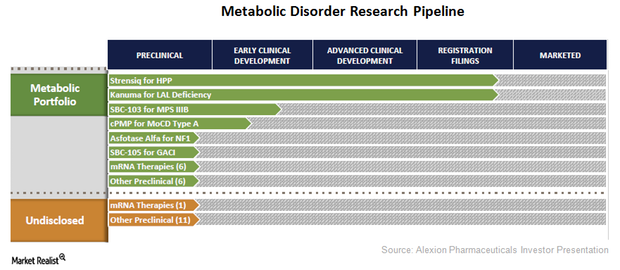 Alexion has other enzyme replacement therapies such as SBC-103 and cPMP in the early stage pipeline of the metabolic segment. Alexion acquired the SBC-103 compound from Synageva Pharmaceuticals, which is being explored for Mucopolysaccharidosis type IIIB (or MPS IIIB). According to the Office of Rare Diseases Research, "Mucopolysaccharidosis type IIIB (MPS IIIB) is a genetic disorder that makes the body unable to break down large sugar molecules called glycosaminoglycans (GAGs, formerly called mucopolysaccharides)." Individuals with this disorder experience serious symptoms such as dementia, seizures, deafness, an inability to sleep for more than a few hours at a time, and several other neurological symptoms.
SBC-103 has been granted orphan drug designation (or ODD) by the Food and Drug Administration (or FDA) in April 2013 and the European Medicines Agency (or EMA) in June 2013. The therapy also received FDA's Fast Track Designation in January 2015.
Other compounds such as cPMP and SBC-105 in early stage clinical development are being explored for rare metabolic diseases such as Molybdenum Cofactor Deficiency Disease Type A (or MoCD Type A) and generalized arterial calcification of infants (or GACI).
Investors can get exposure to Alexion Pharmaceuticals' diversified research pipeline by investing in the iShares Nasdaq Biotechnology ETF (IBB). Alexion accounts for 5.07% of IBB's total holdings.
View more information: https://marketrealist.com/2015/09/alexion-pharmaceuticals-diversifies-research-pipeline/
See more articles in category:
Finance