Finance
A key overview of global online travel company Orbitz Worldwide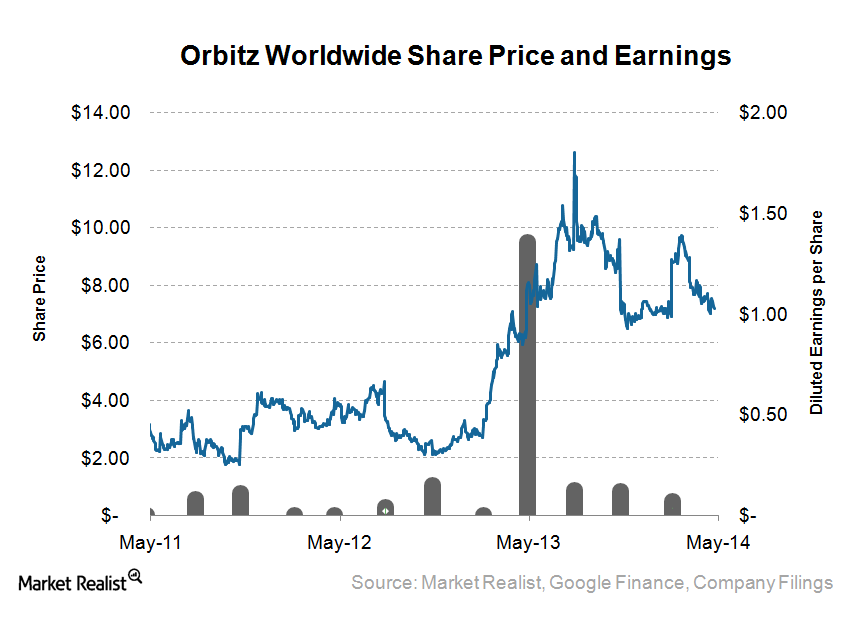 Orbitz Worldwide
The Chicago-based Orbitz Worldwide Inc. (OWW) is a global online travel company (or OTC) whose brand portfolio includes its namesake website, CheapTickets in the Americas, ebookers in Europe, HotelClub, and RatesToGo in Australia. Orbitz also owns and operates Orbitz for Business, a corporate travel company, and Orbitz Partner Network group, which delivers private-label travel solutions to a broad range of partners. The company recently posted a net loss for the first quarter of 2014 although its revenue grew, driven by hotel bookings. Although the stock hasn't gained much year-to-date, it was up 149% last year.
Article continues below advertisement
Similar to its peers operating in the OTC sector such as Priceline Group (PCLN) and Expedia (EXPE), Orbitz generates revenue primarily from the booking of travel products and services on its websites. It provides customers the ability to book travel products and services on both a stand-alone basis and as part of a vacation package, primarily through the merchant and retail business models. It generates advertising revenue through a combination of display advertising, performance-based advertising, video production, and other marketing programs. Travel companies, convention and visitor bureaus, credit card partners, media, packaged goods, and other non-travel advertisers advertise on Orbitz's websites.
Under the Orbitz Partner Network, the company earns revenue by offering third parties—including many of the world's largest airlines, travel agencies, and other partners—a full range of white-label travel solutions, ranging from hosted HTML services to customized solutions. Orbitz licenses its technology and business services to these partners, which are then able to provide a wide range of travel products on their websites under their own brands. The company receives commissions based on the revenue generated by these websites. It pursues the expansion of its private-label channel through the addition of new partners. In the third quarter of 2012, Orbitz replaced Travelocity in providing a variety of private-label solutions for air, car, hotel, and vacation packages for the American Express Consumer Travel Network. In the fourth quarter of 2013, Orbitz started powering the desktop and mobile sites for helloworld.com, the second largest travel agent network in Australia.
Article continues below advertisement
Worldwide travel is a $1 trillion industry characterized by rapid and significant transformation that's in turn driven by changes in demographic trends, globalization, and higher consumer discretionary spending. Moreover, increasing Internet use and higher online and mobile booking penetration rates are benefiting the companies in the space such as Priceline, Expedia, and TripAdvisor (TRIP). Orbitz competes in various geographic markets, with the primary markets being the United States, Europe, and the Asia-Pacific region. The company said internationally, a relatively low percentage of travel sales are transacted online and the market is highly fragmented, which represents a significant opportunity for the OTA.
However, competition has also intensified, with technology companies such as Google (GOOG), Yahoo (YHOO), and Microsoft (MSFT) increasing their interest in online travel. According to PhoCusWright, just four brands controlled 95% of the more mature U.S. OTA market in 2012—namely, Expedia with a 40% share, Priceline with 11%, Orbitz WorldWide with 21%, and Travelocity with 16%. Priceline has managed to increase its share to 16% in 2013 as per PhoCusWright.
Article continues below advertisement
Orbitz Inc. was established in early 2000 through a partnership of major airlines, which included American Airlines, Continental Airlines, Delta Air Lines, Northwest Airlines, and United Air Lines. Orbitz.com officially launched in June 2001. In 2004, Orbitz was acquired by Cendant Corporation, which already owned and operated the HotelClub and CheapTickets brands, and in the following year, Cendant acquired ebookers Limited. In 2006, affiliates of The Blackstone Group and Technology Crossover Ventures acquired Travelport Limited, a unit of Cendant that comprised its travel distribution services businesses, which included the businesses that Orbitz now owns and operates. In 2007, some of these travel businesses were spun out of Travelport into a public company named Orbitz Worldwide, Inc. Travelport owns approximately 48% of Orbitz Worldwide, according to the latest filing by Orbitz.
Orbitz's offerings
Orbitz.com is the company's most well-known brand and it sells a full suite of travel products and services, including flights, hotels, car rentals, cruises, and vacation packages. Orbitz.com has pioneered innovations since the website launched in 2001, including the Orbitz Matrix Display, which revolutionized the way the travel industry displayed fares and made it quick and easy for consumers to compare flights, hotels, rental cars, and vacation packages. The Orbitz Matrix Display has since been emulated across e-commerce sites as an efficient way for consumers to compare, shop, and transact. As consumers moved from desktops to tablets and smartphones for their computing needs, Orbitz has also offered a suite of mobile apps and solutions that now drive approximately 30% of its hotel transactions.
Article continues below advertisement
In 2013, Orbitz.com launched its Orbitz Rewards loyalty program, which gives travelers the opportunity to earn Orbucks—the currency of Orbitz Rewards—when booking hotels, flights, and vacation packages on Orbitz.com. The company said on the recent earnings call that the program has 2 million members.
CheapTickets is a U.S. travel website that targets value-conscious customers and offers them the ability to search for and book a broad range of travel products and services, including air travel, hotels, car rentals, cruises, travel insurance, destination services, and event tickets from suppliers worldwide on a stand-alone basis or as part of a vacation package. The site also offers value-oriented promotions such as "Cheap of the Week," which provides customers with special travel offers weekly.
Orbitz for Business offers a complete portfolio of travel products and services that help corporate customers plan, search, and book business travel. It also delivers travel products and travel management solutions, including 24/7 support along with expense reporting and policy management tools. Through partnerships with leading regional corporate travel agencies, Orbitz for Business offers its services in over 75 countries across Europe, Latin America, Africa, Asia, and the Pacific Rim. In the first quarter of 2012, Orbitz for Business launched Orbitz for Business Express to offer savings, convenience, and professional travel services to small businesses with travel needs, including those currently without a managed travel program.
ebookers.com is a pan-European online travel agency that offers customers the ability to search for and book a broad range of global travel products and services through websites in Austria, Belgium, Denmark, Finland, France, Germany, Ireland, the Netherlands, Norway, Sweden, Switzerland, and the United Kingdom.
HotelClub is a global hotel booking website offering members a worldwide selection of hotel properties across more than 140 countries. Through a loyalty program, HotelClub Rewards, members earn rewards of up to 7% of the value of every booking made, which can then be redeemed on future hotel bookings. The company operates two websites, HotelClub.com and RatesToGo.com, and offers services in 35 currencies and 17 languages.
View more information: https://marketrealist.com/2014/05/orbitz-worldwide/
See more articles in category:
Finance